Performances recommended by organisers
"Music means nothing less than artistic speech" (J. J. Quantz)
Zoltán Thurzó possesses the ability to change our perception about the immense beauty of classical, piano music and composers.
Filtered through his personality, the audience is brought closer to the world of piano music and no doubt, to the artists when they play the story of the "creation" of the piece – using outstanding communication skills – he, constantly, keeps the audience connected to the show.
The piano concerts are often called "one man shows", abandoning the instrument, he starts to walk between rows, and in those moments he reminds us through "amazing tales" of the untouchable music icons. We know that music is the inner caricature of the composer, leading us to discovering his spiritual elevation, character, personality.
His concerts celebrate the adventurous way of music. He absolutely enjoys music. This inborn artlessness characterises all his perfomances.
There is no secret, the artist's intention of touching the audience's core, regardless of age, reaching to the point of greatness, where the piano sheets represent more than just paper, is the every-day business: the  mysterious world of music and the amazing stories in the back line: events, and their research of events. Music is the keeper of the best memories – the ultimate artist of the human mind experiences.
Both the supporting information transmitted to the audience and his sensibility towards music are equally important in the revitalization of musical works. The tales communicated through music are played with humour, like some fairy tales. Thus he also aims for a more forthcoming, interested, sustaining, sensible audience with the promise of an entertaining performance.  
After the "programme" based on musical creativity, the audience could return home with an "extra" allowing them to experience further-more the joy of music listening, the thoughts emerging from the musical works, the tales, supporting information.
"The treasure Fryderyk Chopin left to the world is music and the treasure that he received from the world consists of humans." (Liszt Ferenc)
"Vienna without Strauss is like Austria without the Danube" (Hector Berlioz)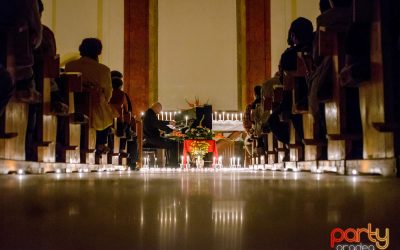 "Music is (...) more enchanting than any magic." (Joanne Kathleen Rowling)
Pictures about other presentations
Pictures from the second piano concert in the history of Oradea Fortress (10th of October 2015.)
Profile pictures
Photographic background material.
These photos are accessible to the mass-media, respectively they can be downloaded in high resolution.